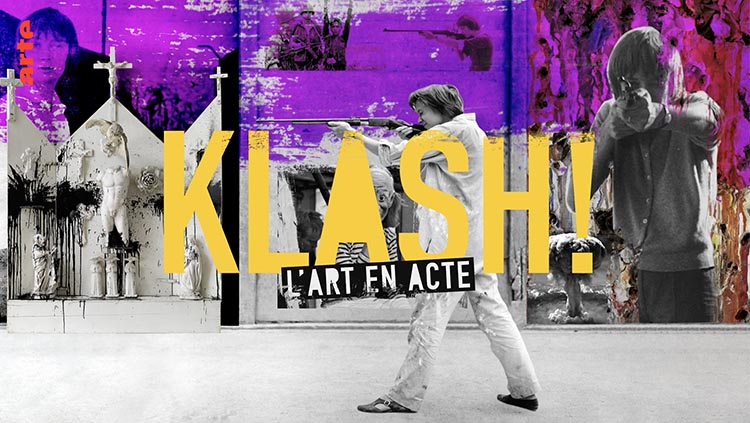 Broadcast: KLASH! Art in action / ARTE
BROASCAST OF THE DOCUMENTARY SERIES "KLASH! ART IN ACTION"
Available on arte.tv, YouTube and ARTE's social channels!
This documentary series reveals another history of art, that of both radical and decisive artistic acts in dialogue with current societal issues.
___________________
Year of production: 2022
Duration: 20 x 3 min.
French and German versions
___________________
In the program :
Je suis innocent, 2012, by Adel Abdessemed
Quand la foi déplace les montagnes, 2002, by Francis Alÿs
VB 48, 2001, by Vanessa Beecroft
I Became a Secret Hippy, 1971, by Chris Burden
Le Rideau de fer, 1962, by Christo et Jeanne-Claude
Wheatfield, 1982, by Ágnes Dénes
Tirs, 1961, by Niki de Saint Phalle
Xitle and Spirit, 2007, by Jimmie Durham
Ice Watch, 2015, by Olafur Eliasson
Action Pants : Genital Panics, 1969, by VALIE EXPORT
Tierra, 2013, by Regina José Galindo
Bliz-aard Ball Sale, 1983, by David Hammons
Faust, 2017, by Anne Imhof
A Needle Woman, 1999-2009, by Kimsooja
For Forest, 2019, by Klaus Littmann
Merda d'artista, 1961, by Piero Manzoni
Roland Garros, 2004, by Gianni Motti
Le Baiser de l'artiste, 1977, by ORLAN
Le Cyclop, 1969-1994, by Jean Tinguely
Étude de Perspective, 1995-2015, by Ai Weiwei
KLASH! Art in action
Documentary series Concept, editorial and artistic direction: Frank Perrin
Creative direction and editorial committee: Frank Perrin, Gilles Coudert, François Combin
Motion design: Guilherme Hoffmann
Voice: Joana Preiss
Music: Xavier Roux
Authors of the episodes: Frank Perrin, François Combin, Gilles Coudert, Julien Devaux, Armelle Leturcq, David Liver, Virgile Novarina
Production manager: Gilles Coudert
Executive production: François Combin
Coproduction: Arte France, a.p.r.e.s Production, Urubu Films, Manifeste!
In partnership with the National Center for Plastic Arts
and with the support of the CNC