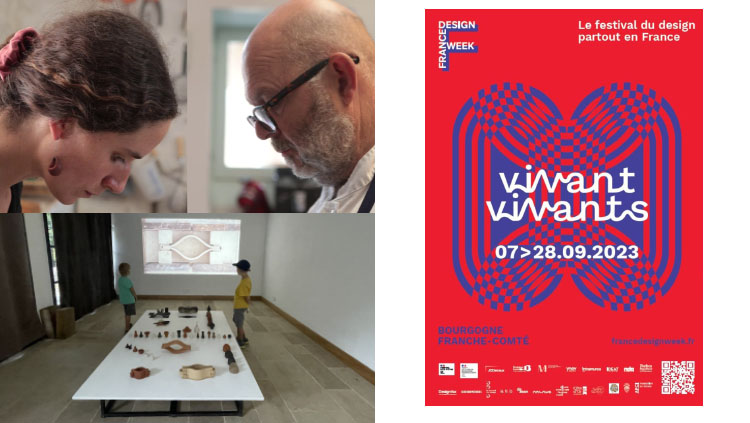 Film screening: D'Une Main L'Autre / France Design Week
FILM SCREENING-MEETING "D'UNE MAIN L'AUTRE"
A film by Gilles Coudert

Produced by a.p.r.e.s production and 14 Septembre
as part of France Design Week 2023
from September 8 to 12, 2023
at the INTRAMUROS Café / Galerie Joseph
116 rue de Turenne in Paris (3rd)
and from September 5 to October 15, 2023
at ARCADE Design in the countryside
in the exhibition "D'Une Main L'Autre"
at the Château de Sainte-Colombe in Sainte-Colombe-en-Auxois
Developed by culinary designer Marc Bretillot (Vézelay) and ceramist Marcela Paz Undurraga Quilodoran (Semur-en-Auxois), this event unveils a unique project in co-creation with International Design Expeditions (IDE) and ARCADE Design à la campagne®. This meeting takes place as part of the launch of France Design Week 2023 and therefore offers a performance meal, a filmed meeting and an exhibition.
In this exhibition, film and experiments interact in order to reveal to the public the creative process and the processes implemented as part of this research.
For IDE TO BURGUNDY, as part of the CERAMIC & FOOD ROUTE program, Marcela Paz Undurraga Quilodoran and Marc Bretillot are collaborating on a common project whose outlines are constructed during discussions, meals and experiments. They compare their respective practices and sensitivities to the new chosen production territory: Burgundy.
For the fourth consecutive year, ARCADE Design in the countryside has the honor of coordinating France Design Week for the Burgundy-Franche-Comté region.
A national event, France Design Week aims to promote design and the expertise of its designers among professionals and to raise awareness of its practice among the general public, by highlighting all fields of design.
Duration: 15 min.
 © 2023 a.p.r.e.s production / 14 Septembre